Women's Hockey Asia Cup: Malaysia blown away by India in opener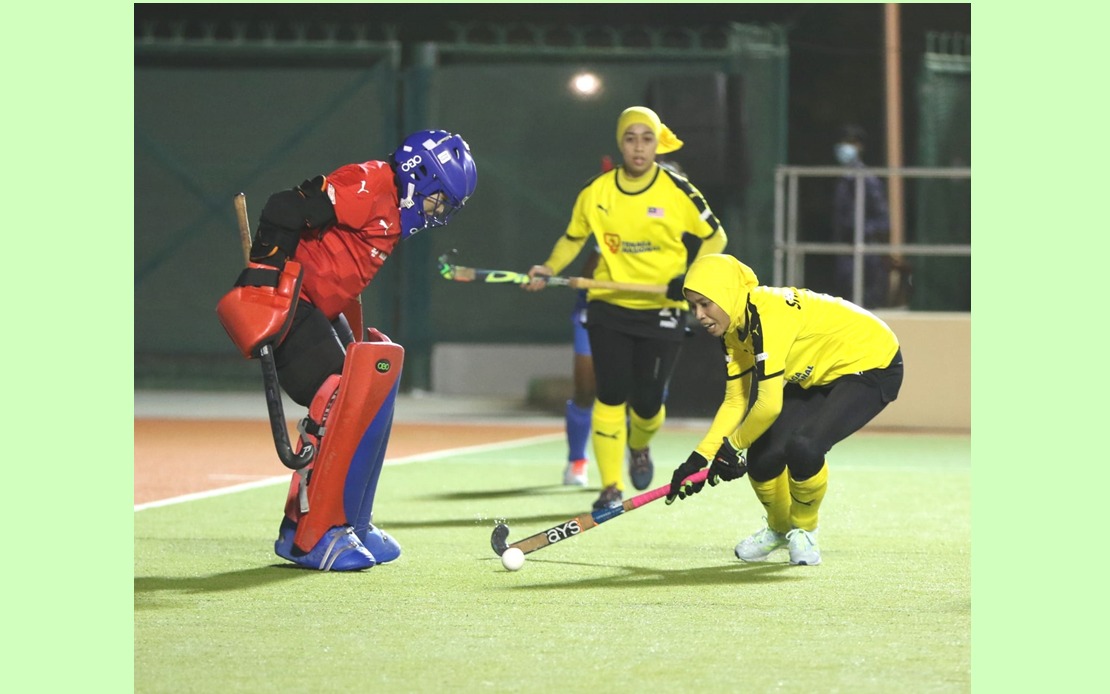 Credit: Asian Hockey Federation's Facebook
KUALA LUMPUR, Jan 22 -- The National Women's Special Project Squad suffered a huge 0-9 defeat at the hands of India in their opening match in Group A of the 2022 Women's Asia Cup Hockey Championship in Muscat, Oman, early this morning.
In the action at the Sultan Qaboos Complex, India scored eight field goals and one from a penalty corner, starting with Katariya Vandana's opening goal in the eighth minute before Deep Grace Ekka converted a penalty corner two minutes later.
India added two goals before the break through Navneet Kaur in the 15th and 27th minutes followed by Vandana scoring her second in the 34th minute. Thereafter it was Lalremsiami Hmar's turn to get her name on the scoresheet as India's sixth goal scorer in the 38th minute.
The other three goals by India were netted by Monika Malik in the 40th minute and Sharmila Devi (46th, 59th minutes).
In a statement issued by the Malaysian Hockey Confederation (MHC) today, National Head Coach Mohd Nasihin Nubli Ibrahim admitted that India as the top ranked team in Asia were far better than his charges who lack experience in playing on the international stage.
He said India, who finished fourth at the Tokyo 2020 Olympics, were on a mission to prove that they were the best team, and even fielded 16 players who competed in the Olympics.
"In today's match, India showed that they are at a high level, especially in terms of technical, hockey skills and fitness level.
"This defeat will definitely be a bitter experience for the players, especially those who do not have any international caps and we coaching staff will play our role to motivate those who are really disappointed," he said.
Mohd Nasihin at the same time said that many improvements need to be done, especially in terms of players' fitness and technical skills before they face Singapore in the second match, tomorrow.
"We will see match by match and the coaching staff will do video analysis to look at the angles that need to be improved. I also reminded the players that we are not out of the tournament and the mission here is not over," he said.
After Singapore, Malaysia are scheduled to complete the group stage against Japan on Jan 24 in their attempt to hunt for the top two positions to advance to the semi-finals of the tournament which is also a qualifier for the 2022 Women's World Cup.
In MELAKA, MHC president Datuk Seri Subahan Kamal said the tournament was seen as the best platform to give exposure to the squad which on average is lined up with more than 70 per cent young players.
Thus, he said the 9-0 drubbing the team suffered at the hands of India was not unexpected and that their participation in the tournament was part of MHC's long-term plans to build a national women's squad who can take on giants like India, South Korea and China in the future.
"In this team we have a lot of young players aged 18 and 19 who have no experience and this is the first time they are playing in a competitive tournament.
"As president, I take responsibility, the defeat is part and parcel in gaining exposure and experience, They will become better and better as they play in more competitions," he told reporters here today.
Earlier, he had officiated the Annual General Meeting of the Melaka Hockey Association (PHM) which was also attended by PHM president Habibul Ajmi Manggar.
-- BERNAMA