Worth it to release Nurul Izzah to national team -- Former cycling coach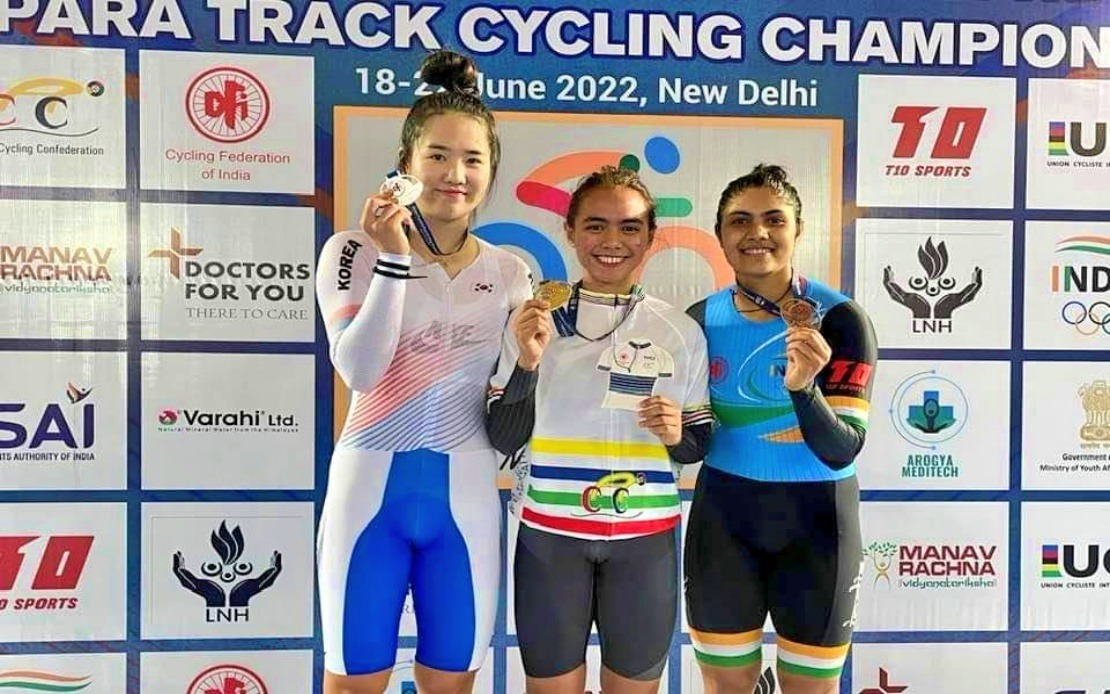 Nurul Izzah Izzati Mohd Asri (middle) (Credit : Twitter Faizal Azumu)
ALOR SETAR, June 20 (Bernama) -- The sacrifice of releasing the sensational Nurul Izzah from the Kedah team to join the national cycling team this year was well worth it, said Kedah cycling head coach Noor Alfizar Othman. In fact, it was worth her weight in gold as the Kedah cyclist raced to a historic first for Malaysia's women cyclists.
"She managed to make history yesterday by winning the gold medal in the 500 metres time trial in New Delhi (at the Asian Track Cycling Championships)," said her former coach Noor Alfizar who started grooming Nurul Izzah Izzati Mohd Asri in 2015 when the child prodigy was only 12 years old.
"Nurul Izzah started her career in cycling under the Kedah State Sports Council (MSNK) and in less than a year she scooped a bronze medal at the 2016 Sarawak Malaysia Games (SUKMA) in the cross-country mountain bike category," said Noor Alfizar, 45, who started out as a state coach in 2005 and is now coaching the men's and women's state cycling squads.
"Launching from there, Nurul participated in many other tournaments and managed to win various categories including track events. Many were surprised to see her achievements because even though she was still young, she managed to beat the more experienced cyclists," she said when contacted by Bernama today.
Noor Alfizar said from there, Nurul Izzah, who is known by the nickname of 'Angah', participated in many track tournaments and amazed the coach with her gift, desire and determination to be a winner -- perhaps an Olympic champ in the making.
Yesterday, Nurul Izzah won the gold medal in the 500 metre time trial for Malaysia at the Asian Track Cycling Championships held at the Indira Gandhi Complex Velodrome in New Delhi by clocking a time of 35.499 seconds (and achieving a top speed of 50.705 kph).
The closest challenger Kim Bomi of South Korea was in second place with a time of 36.374s while host representative Mayuri Dhanaraj (of India) finished third with a time of 36.481s, according to the tournament's official website www.atcc2022.com.
Commenting further, Noor Alfizar said Nurul showed an improving streak and the whiz kid even earned the nickname of 'Women's version of Azizulhasni Awang' when she won a medal at the Perak SUKMA in 2018.
"Racing for the Kedah team received less national attention but it all changed when she managed to record a time of 34.869s in Junior Cycling Malaysia (JCM) before this. At that time, John Beasley, who was the national track cycling champion coach for Datuk Mohd Azizulhasni Awang, contacted me and asked if I was ready to 'let go' of Nurul Izzah.
"I really want to see her go far, so on January 10 (this year), I packed her off to Bukit Jalil to join the national team. I told the management there to help Nurul Izzah as best they can and continue to nurture the Kedah hopeful," she said.
Meanwhile, she said Nurul Izzah contacted her after winning the tournament in India yesterday but she didn't answer the call as she was too busy managing the Kedah team at the on-going JCM Track Series at the National Velodrome in Nilai.
"She did send me a picture of winning the gold medal but I didn't reply as I was busy. Maybe she figured I was upset because she couldn't record a better time, so she apologised but I replied that wasn't a problem because there was still the near future to improve on her time.
"My dream is to see Nurul Izzah race in the 2028 Olympics and hope it will be achieved. I also hope the state government can pay more attention to our cyclists because we can actually go further as there are good coaches and talents, the only constraint that exists now is from the aspect of equipment," she said.
Noor Alfizar said the Kedah cycling team did not expect the state to provide a velodrome worth millions but it could certainly help by providing bicycles to each and every athlete to enable more homebred talent like Nurul Izzah to emerge from Kedah.
Meanwhile, Kedah Menteri Besar Datuk Seri Muhammad Sanusi Md Noor also congratulated Nurul Izzah on her success as a Kedah-born athlete and will ask the Kedah NSC to reward the promising cyclist.
-- BERNAMA