Joshua storms to victory in Asia Triathlon Cup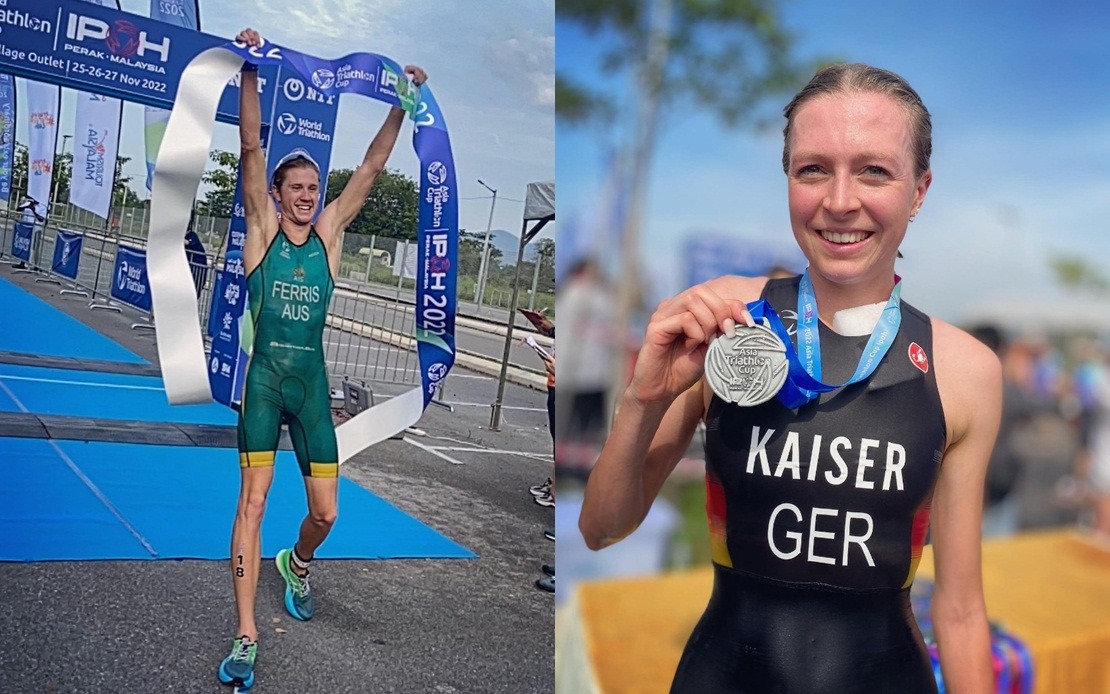 Australian triathlete Joshua Ferris (left) and Celine Kaiser of Germany. (Credit: Stagemaker Sdn Bhd)
BATU GAJAH, Nov 26 (Bernama) -- Australian Joshua Ferris upstaged some higher-ranked opponents to emerge champion in the men's elite category in the 2022 Asia Triathlon Cup (ATC) at the Silverlake Village Outlet, near here, today.
The 21-year-old, who is 35th in the continental ranking, showed his mettle when he completed the three-discipline event - swimming (750 metres), cycling (20 kilometres) and running (5 kilometres) - in 53 minutes and 53 seconds (53:53s).
The Australian finished ahead of two Hong Kong triathletes - Wong Tsz To (20th in the continental ranking), who clocked 54:22s; and Yu Shing Him (28th in the continental ranking), who finished in 54:34s.
"All the competitors gave their best, starting with the swim event.
"I took a different approach. At the start of the race, I did not push myself too much as I wanted to conserve my energy. I just made sure I stayed in touch with the leading pack," said Joshua, who took home RM7,093.50.
The prizes were given away by Tourism Perak Management Berhad general manager Zuraida Md Taib, Perak Triathlon Association president Dr Khoo Peng Chuan, who is also the organising committee chairman, and Malaysia Triathlon Association president Tony Tan Beng Hong.
In the women's elite category, Germany's Celine Kaiser came out tops in 1.:00:52s, followed by New Zealand's Olivia Thornbury (1:01:30s) and Japan's Manami Hayashi (1:02:00s).
Meanwhile, the men's Olympic Distance and women's Sprint Distance events will be held tomorrow and they are only open to Malaysians.
-- BERNAMA