Pressure is no excuse, sacrifice needed for Paris gold - Michelle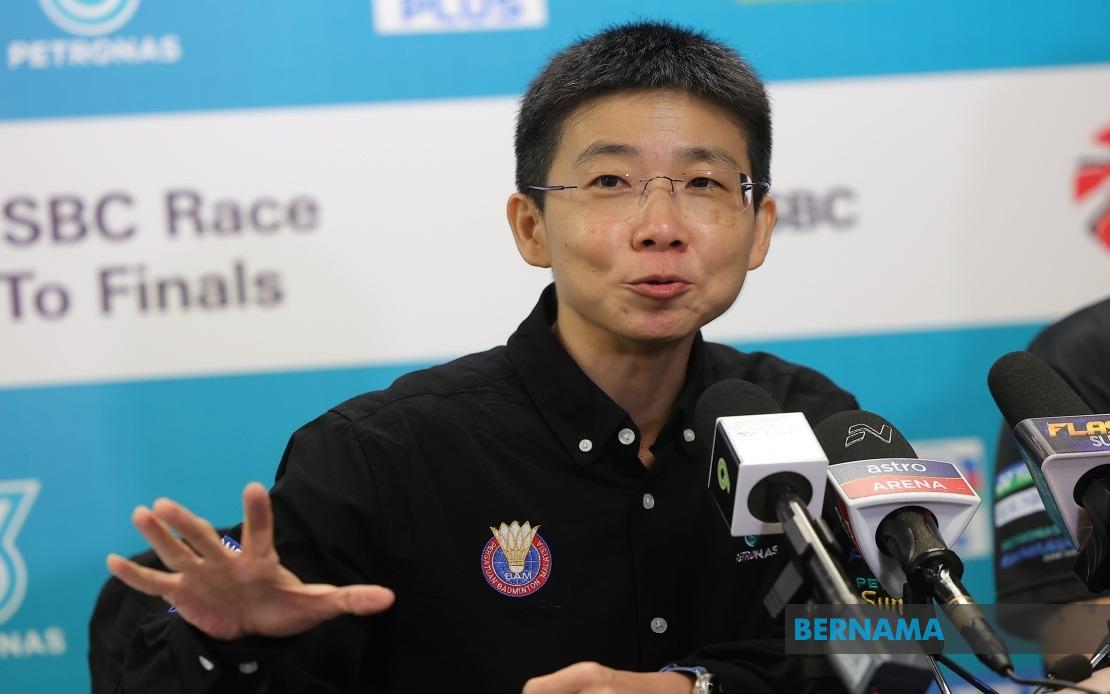 Akademi Badminton Malaysia (ABM) chief executive officer, Michelle Chai at a press conference at Axiata Arena today
KUALA LUMPUR, Jan 15 (Bernama) -- The excuse of being under pressure given by several national players is unacceptable said Akademi Badminton Malaysia (ABM) chief executive officer, Michelle Chai.
This follows a number of national players, notably men's doubles world champions Aaron Chia-Soh Wooi Yik and world number six women's doubles Pearly Tan-M. Thinaah who performed poorly at the Malaysian Open 2023 this week.
"The players said they did not enjoy and are not having the joy to play badminton anymore because they are under tremendous pressure. Why was it that before becoming a world champion and players ranked in the top 10 could handle the pressure? They didn't just enter ABM yesterday, some have been there for eight years.
"When they were chasing, they can handle pressure, but once they reached the mountain they started complaining. This is our shared responsibility (players and ABM management). We need to find ways to rekindle their joy of playing badminton, which they had when they first started as a kid," she said at a press conference at Axiata Arena today.
In fact, Michelle said to realise the country's first Olympic gold medal dream at the Paris 2024 edition called for the players to give much more sacrifice.
She admitted that the players under her tutelage at ABM did not have disciplinary issues such as problems in training and returning to accommodation late at night, but said it was not enough to be a great player or doubles player in the world.
Michelle said she was ready to take responsibility for the inconsistent performance of the national players, but at the same time demanded the players to fulfil their responsibilities as players ranked in the top 10 in the world.
"We do not intend to fine them, it is not a good solution. We need to find a balance, to ensure the players continue enjoying playing. Handling the current generation of players is not the same as 10 years ago, it is different now," she said.
Towards the preparations for Paris 2024, she said the academy had discussed with the players, the National Sports Council and the National Sports Institute to provide a special diet and psychological support to drive success.
Michelle also explained that her side was not disappointed with players who were expected to lose, but because they failed to show their real capability at the Malaysian Open when all the national shuttlers were knocked out in the early rounds.
Aaron-Wooi Yik, who went down as the world's third-ranked pair to the world's sixth-ranked Liu Yu Chen-Ou Xuan Yi of China in the second round, while Pearly-Thinaah lost in the first round to Gabriela-Stefani Stoeva of Bulgaria.
On the other hand, men's singles player, Ng Tze Yong, ranked 25th in the world, almost upset world number seven player, Kodai Naraoka of Japan but lost 21-15, 19-21, 15-21 in the second round after a battle lasting more than 120 minutes yesterday.
In the mixed doubles section, Chen Tang Jie-Toh Ee Wei lost to Thom Gicquel-Delphine Delrue from France in the quarter-finals, while Hoo Pang Ron-Teoh Mei Xing lost to former world champions from Thailand, Dechapol Puavaranukroh-Sapsiree Taerattanachai in the second round.
"We set a second-round target for Tze Yong, 22, but he missed the chance to beat Kodai. Although Tze Yong, is a year older than Kodai, we found that he only played 160 tournaments, compared to Kodai who played more than 200 and Kunlavut Vitidsarn from Thailand who had more than 400 tournaments.
"So we will send him to more tournaments to get match experience. As for the mixed doubles, even though they have just been paired, they have shown good teamwork and are ready to take on more pressure," she said.
She admitted that players cannot be expected to win in all events as records show players ranked in the world's top 20 lose in the round of 32 and last 16 in 40-50 per cent of the tournaments they enter, with the exception of men's singles number one Viktor Axelsen, who is in a different class.
-- BERNAMA